With decades of experience in the tax industry, Ken Weinberg and the team at Ken-Mar tax is prepared to help resolve your IRS, Ohio and local tax issues. We have years of experience resolving personal back taxes, serious IRS tax issues, tax liens, tax levies, wage garnishments and collection calls and letters. Ignoring your back taxes, unpaid taxes, misfiled taxes and penalty letters is not a step towards tax relief - setting-up a free consultation with Ken-Mar Tax is!  Let us move forward to get the IRS, State of Ohio or local tax collectors off your back.
Cleveland Tax Resolution Firms
Avoid high tax attorney fees or dealing with "Tax Resolution Firms" that pretend to be in Cleveland when they are actually a national call center.*  Call Ken Weinberg at Ken-Mar Tax and schedule a free consultation to review whatever IRS and Ohio back taxes, tax liens, tax levies and tax penalties you're dealing with.  Then let the team at Ken-Mar Tax negotiate your IRS and State of Ohio payment plans, offers in compromise and other methods of reducing your tax debt to provide tax relief.
IRS, Ohio and Local Tax Resolution:
- Free Consultations
- Stop Wage Garnishments
- Facilitate Offer In Compromise
- Set-Up Installment Agreements
- IRS Penalty Abatement
- Innocent Spouse Relief
- Ohio Tax Lien & Levy Releases
- Federal Tax Lien & Levy Releases
- Currently Non Collectible
- Back Tax Filing
Local Office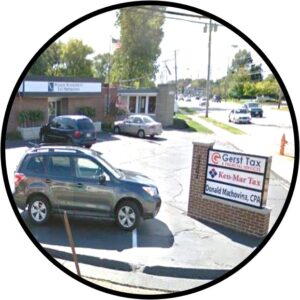 When you're dealing with back taxes and looking for help filing past tax returns, it's very helpful to have a local office where you can bring your boxes of paperwork for us to sift through together. When working with a "tax resolution" firm, make sure you have a physical space that you can make in order to make the tax resolution process less painful.
Our office is 10 minutes from Cleveland Hopkins Airport with easy access from 480 or 90, on Lorain Road in N. Olmsted just east of Clague Road.  Please make an appointment before showing up with a box of paperwork - especially between January and May, when we are very busy with tax returns.
Local Tax Agent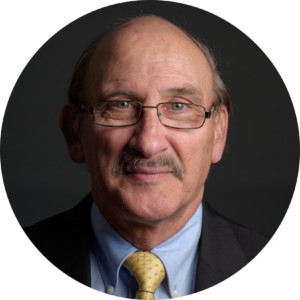 At Ken-Mar Tax, when you have back taxes, potential wage garnishment or Ohio tax lien issues to clear-up, you get a personal tax agent, Ken Weinberg, working on your behalf. Instead of a "customer service representative," which you can expect at a big tax resolution firm, you get an Enrolled Agent that can talk to the IRS, state of Ohio and local municipalities to resolve CCA and RITA tax debts.
Tax Resolution Expert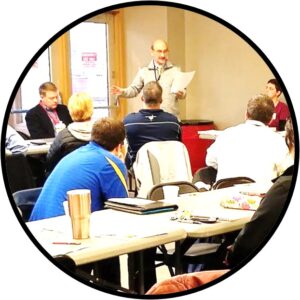 Local Tax Speaker
Ken Weinberg is known throughout the North Olmsted and Cleveland area. As a member of the True North Networkers BNI Chapter, he has served as President several times in the past 14 years since the chapter launched in 2008. As an expert in tax reduction and tax resolution issues he has been a featured speaker at hundreds of real estate offices throughout Cuyahoga and Lorain counties, as well as business professional groups.
If you would like Ken to deliver a presentation to a group of small business owners contact us to arrange a speaking engagement. Ken is also certified to deliver continuing education for other tax agents, or enrolled agents with the IRS.
*As a real business owner in North Olmsted, a Cleveland Heights High School and Cleveland State University alumni and a proud resident of North Royalton, Ohio, it's upsetting to see many of these "Cleveland Tax Resolution Firms" that add the word Cleveland to their website and pictures of Cleveland area location are in reality national call centers designed to bring in leads – giving the frustrated, confused and vulnerable taxpayer the pretense that they'll be able to walk into a local office and deal with an actual local professional that will help resolve their IRS, Ohio and local back tax issues, when those firms aren't local at all.  Just Google "Tax Resolution Cleveland" and compare the results to "Tax Resolution Seattle" you'll see many of these firms are NOT local people despite their purposeful targeting of our Cleveland area.  Please take a moment to perform some extra due diligence before engaging with a tax resolution firm that at first glance appears to be local.